About Us
Safety
Incentive Program
Incentive Program
In support of our company-wide safety assurance process, Niyac Corporation Group has a program to reward individual employees, as well as whole operating groups, that achieve exemplary levels of safety performance and improvement.

* Award for one year incident-free service.
* Hawaii or California tour, including spouses, awarded for "15, 25, 35, and 45 Years Incident-Free Driving" achievement.
(All employees that earn tour awards additionally receive a letter of commendation from National Tank Truck Carriers Inc. (NTTC).)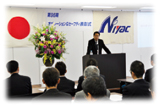 Terminals that dispatch trucks for 2 million incident-free kilometers or that operate incident-free for a period of one year receive an award.