About Us
CSR
Corporate Governance
Corporate Governance
At Niyac, we believe that we, as a corporation, exist in order to serve society. As such, we know that one of our most important management challenges is to implement and adhere to a set of corporate governance processes that hold us to the highest standards of ethics and social responsibility.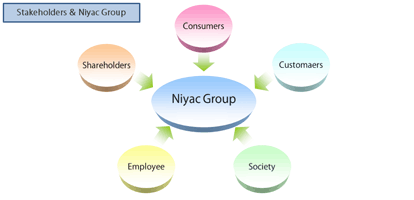 Strict legal compliance in all our corporate activities is of course important to us, but more than that, we feel that society expects us to manage ourselves with complete integrity and adherence to societal norms. Accordingly, and based on the board's strategic guidance and decisions, we have implemented and maintain a strict regime of internal compliance procedures that we believe will prevent any occurrences of illegal or ethically inappropriate activity.

To maintain the soundness and transparency of our management policy making processes, and the execution of these policies, we have adopted the following audit procedures:
- The group's most important decisions will all be made at the board of directors' level and in accordance with board regulations.
- Auditors, including outside auditor, observe and audit the directors' activities by attending board meetings, etc.
- The board nominates an executive officer who makes and executes a business plan according to the board's directives. The board is kept informed of all material elements in the status and execution of that plan.
- Niyac will contract with multiple advisors and law offices so as to receive appropriate advise and will execute the business plan in accordance with that advise and with all of the company's compliance regulations.
- Board members are nominated to terms of one year. All nominations are subject to shareholder approval at the company's annual general shareholders' meeting.

Niyac Corporation Group conducts its business at a nationwide network of connected and cooperating offices and operating sites. For smooth, efficient and compliant business operations throughout the network, the Group has implemented a uniform set of business processes and rules. Collectively we call these "NBP" (Niyac Best Practices). These uniform practices are the means by which we clarify responsibilities, ensure smooth and efficient business operations, eliminate errors and overlap, maintain network-wide consistency in service quality, and, overall, reduce our operating expenses. Further, we formally audit NPBs twice per year to identify opportunities for improvements, making sure that any new procedures or revisions are implemented in a manner that does not cause any lapse in coverage during cut-over.

Niyac Corporation Group, in order to comply with the words and the spirit of Japan's "Whistleblower Protection Laws", has implemented a set of procedures to enable any group employee who has discovered unlawful activity, corporate or individual, to quickly report and discuss this activity with designated personnel deployed within the Group. To this the end, the company has established and deployed a specially designated "hot line" . Furthermore, in accordance with "Whistleblower Protection Rules", we have implemented specific rules to protect whistleblowers from unwarranted reprisals (dismissal, change in work conditions, etc.) and have formally incorporated these rules into our compliance regime.